Contact Geotest
Geotest offers a wide range of products and services including Design, Supply and Installation of Geomembrane Liners and Floating Covers – all backed by our years of experience and expertise.
Office Address
Office Address:
53 South Terrace
Wingfield SA 5013
Postal Address
Postal Address:
PO Box 2410
Goolwa SA 5214
Email
admin@geotest.net.au
Company Managment
Seeing the need in the industry for an independent CQA and testing company, Phillip Bennett sold his geomembrane design and installation company of more than 25 years to embark on his new business venture – Geotest Pty Ltd.
After several years of in-house development of technology and testing techniques, Geotest Pty Ltd is growing in leaps and bounds and is currently the largest independent liner electrical testing company in Australia. To date, Geotest Pty Ltd has tested in excess of 10 million square metres of geomembrane throughout Australia!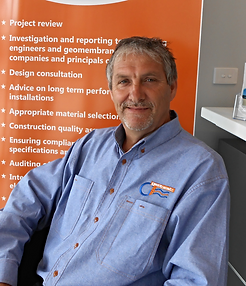 Phillip Bennett
Managing Director