Geomembrane Design & Engineering
Geomembrane Supply & Installation
Geomembrane Design & Engineering
With over 40 years in the construction industry, the designers and engineers at Geotest are uniquely skilled in geosynthetic design and geomembrane material selection.  Our Engineers are highly experienced in the field and can advise and recommend the best combination of geotextiles and geomembranes for any application.
Geo Lining Integrity
Designing and selecting the correct geomembrane is critical to the integrity and longevity of the geo lining.  There are over 40 different types of membranes in the HDPE category, each with subtle differences in the formulation that can make a critical difference to onsite performance.
Our experienced engineers will conduct a complete analysis of the site, substrates, loads, stresses and chemicals present on-site to determine the optimum geomembrane and/or geotextile combination for your application. 
Engineered Solutions For Tough Geomembrane Design Problems
Geotest provides end to end solutions for a range of geo lining applications including potable water applications, anaerobic digesters, co-gen systems, wastewater ponds, irrigation dams, channels and tunnel linings.
We offer state-of-the-art geomembrane solutions, specifically designed to overcome the onsite challenges associated with geosynthetic manufacture and installation.
Many of the people in the geomembrane industry have worked for or been trained by the team at Geotest.  Our unrivalled experience and expertise mean you can rely on us for an engineered response to tough design problems. 
Geomembrane Research Development & Innovation
Geotest provides high integrity, fully engineered designs and can be relied upon to be at the leading edge of research, development and innovation in the field of geosynthetics.  Our engineering, research and development have led to innovations enabling clients to reduce installation costs, improve quality and functionality, and deliver significant costs savings on projects. 
In-House Geomembrane Fabrication
Geotest has the largest geomembrane factory fabrication facility in South Australia.  Our specialist team can design and fabricate geomembranes and floating covers up to 95 metres long and up to 1.5 tonnes in weight.  Our state-of-the-art fabrication factory is equipped with a research and development laboratory including a tensiometer and other specialist testing equipment to ensure precise and accurate welding results.  
Geomembrane Supply & Installation
Geomembrane Supply
Geotest has a large network of international suppliers of high-quality geosynthetic materials from Canada, North America, Australasia, Europe and the Middle East.  We provide complete end to end supply solutions including estimating, global shipping, national freight and material handling and storage.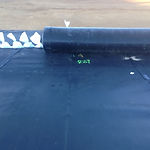 Geomembrane Installation
The Geotest team have more than 150 years of combined experience in the design and installation of geomembranes throughout Australia and across the world.  As a CQC provider, our geomembrane installation team have unrivalled expertise and are IAGI (International Association of Geosynthetic Installers) certified welding technicians.
Turnkey Solutions For Geomembrane Installations
Geotest offers turnkey solutions for floating liners and geo liners, providing project management, CQC site supervision, level one CQA independent testing and geomembrane installation services.
Our large team of highly trained geomembrane installers are experienced and skilled in all types of geomembrane installations.  Whatever your application – gas covers, evaporation covers, baffle curtains, or holding tanks or containment systems – Geotest have the expertise and experience to deliver a safe, high-quality and compliant installation per the design specification and philosophy.