Electrical Leak Detection & Geomembrane Repairs
Electrical Leak Detection
Geotest is the market leader in electrical leak detection having completed testing of over ten million square meters of geomembrane.  Our testing equipment is unlike anything else on the market.  With extensive research and development, we have created the most sensitive and sophisticated electrical leak testing equipment in Australia
Geotest provide the full range of electrical testing methods including 
Arc Testing – ASTM D7953
Electrical Leak Location on Exposed Geomembranes Using The Arc Testing method.
Dipole Method - ASTM D7007
Electrical Methods for Locating Leaks in Geomembranes Covered with Water or Earthen Material.
Floating GPS Remote Dipole- ASTM D7007
Electrical Methods for Locating Leaks in Geomembranes Covered with Water or Earthen Material.
Spark Testing – ASTM D7240
Standard Practice for Leak Location using Geomembranes with an Insulating Layer in Intimate Contact with a Conductive Layer via Electrical Capacitance Technique (Conductive Geomembrane Spark Test).
Water Lance – ASTM 7703
Standard Practise for Electrical Leak Location on Exposed Geomembranes Using the Water Lance Method.
Unrivalled Electrical Leak Location Capabilities
State of The Art Technology
Geotest has invested in state-of-the-art testing technology from Europe and the United States and our ongoing in-house research and development (R&D) program ensure we remain at the cutting edge of the geomembrane industry to provide a world-class leak detection service.  Our R&D program has allowed us to refine and improve upon worldwide testing techniques to give greater scope and ability in our electrical surveys. 
Sensitivity Down To 100 Microns
Our in-house R&D program has enabled us to enhance our electrical testing equipment which has been proven to be more accurate and sensitive than commercially available testing equipment.  Our equipment is state of the art and thus we can detect holes as small as 100 microns (in certain applications) to give you absolute confidence in the integrity of your geo liner.
Electrical Leak Surveys
3D Survey Maps
Geotest is the only company in Australia able to offer remote dipole testing.  Our 3D mapping system creates a digital record of your geo liner to provide clients with invaluable information regarding the integrity of the installation when preparing their reports and/or quality control summaries.  
Deep Water Geo Lining Testing Without Decommissioning
The use of remote-control dipole testing provides clients with the ultimate flexibility meaning that deep water dams, ponds and reservoirs can be tested and surveyed whilst fully operational without the need to be decommissioned. 
Permanent & Accurate Geo Lining Records
Our exclusive 3D modelling surveys enable us to offer customised solutions to clients. Our team can advise on the most cost-effective method of repair and can provide temporary and permanent fixes.  3D mapping of the structure creates a permanent and accurate record of the integrity of the liner.  This allows greater flexibility to have repairs carried out immediately or at a later date, as accurate identification records are available for the future. 
Geotest – Experts In Geomembrane Repairs
With over 45 years of experience in the geomembranes industry, Geotest is an authority in all areas of Geosynthetics.  We've tested over ten million square metres of geomembrane and our team are the market leaders in electrical leak location and repairs.   Our repair capabilities cover all categories of geosynthetics including PVC, HCPE, CSPE, PV, EIS, EIA, EVA, LLDPE, VLDPE, XRS, XR3, PP, rPP and Hypalon.
IAGI (International Association Of Geosynthetic Installers) Approved
As an approved International Association of Geosynthetic Installers (IAGI) proctor for certification of welding technicians, we have an in-depth understanding of the welding techniques and their parameters, giving greater assurances to our clients of a successful installation.
Fast Turnaround On Geomembrane Repairs
Our testing team provide a fast turnaround and can be relied upon to quickly locate and repair all types of geosynthetics including
Electrical Leak Detection & Geomembrane Repair- Project Overview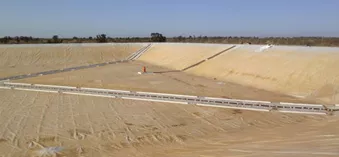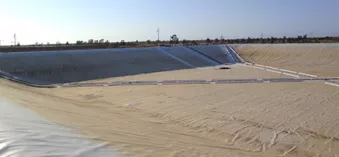 Electric Leak Detection & Repair – 60 Mega Litre Pond Liner
Geotest carried out leak detection testing and repaired a 60 mega litre potable water storage pond. The project involved the decommissioning of the original deteriorated liner and a repair to what was the floating cover in order for it to be used as the new lining.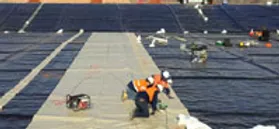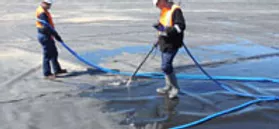 Electrical Leak Detection Methods
In order to source the leaks, we used a variety of techniques starting with the inflation of the lining. Whilst underneath, the technicians were able to see daylight through the obvious holes which were documented for repair later.  We used this opportunity to install our future leak detection system. The cover was carefully deflated to ensure it relocated correctly preventing further damage to the lining upon filling the pond with water again.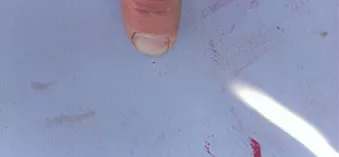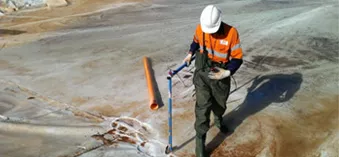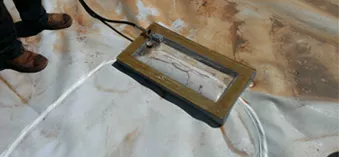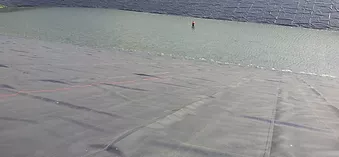 Over 200 geomembrane holes detected & repaired
Geotest then used a combination of vacuum testing and e-testing techniques to find, test and repair nearly 200 holes – some barely visible to the naked eye but with the potential to cause serious water loss once the pond was full.  This just goes to show the amazing capabilities and accuracy of our e-testing systems.