IAGI Certified Geomembrane Training
IAGI (International Association Of Geosynthetic Installers) Certified Welding Technician qualification
CWT Certification – Be Trained By The Best
As a proctor for welding certifications, Geotest are approved by the International Association of Geosynthetic Installers (IAGI) to provide CWT certification training for all types of welding methods used on geomembrane materials. 
To become a proctor for IAGI CWT certification you need to be highly experienced in geomembrane installations and have documented experience of installing a minimum of 90,000 square metres of polyethylene materials.   The team at Geotest have 150 years of combined experience and we've installed and managed geomembrane projects in excess of 1 million square metres.
Geomembrane Installation & Welding Training
The geosynthetics industry is currently undergoing an unprecedented demand for Geomembrane installation.  As a result, the current pool of available trained and competent personnel in Australia is already depleted, making it difficult for companies to meet current resourcing needs.
Using a geomembrane installation team with limited or inadequate training can compromise the integrity of new lining installations. This could result in significant substandard performance of liners that could harm the environment and lead to litigation.
Maintaining Industry Standards In Geomembranes
Our training programs ensure that geomembrane welding personnel, either being new to the industry or already experienced are competent in welding techniques, understand the limitations and theory of those techniques and competently meet the industry standards for the geomembranes they are certified in.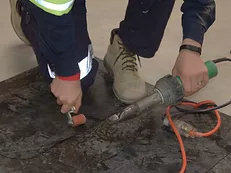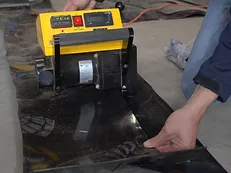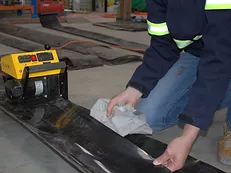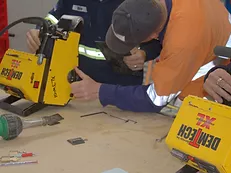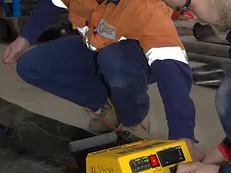 CWT Certification Adelaide 
Geotest is passionate about ensuring that the integrity of our industry is maintained, and we offer a thorough and comprehensive training program designed to exceed clients' expectations.  CWT (Certified Welding Technician) training takes place at our Adelaide headquarters and all classes are kept to a maximum of six people, to ensure all attendees receive personal attention and close mentoring throughout the training program.
Certified Welding Technician Training (CWT)
Certification includes comprehensive hands-on welding techniques training and theory along with guidance in understanding plans, specifications and OHS. Topics covered include
Understanding geomembrane materials
Understanding geomembrane equipment
Geomembrane welding techniques
Welding occupational health and safety
Geomembrane welding theory
Understanding plans and specifications